Well I didn't realize I hadn't put up the Trac in here, and apparently neither did John, so here goes.
In loving memory of my best friend John Johnstone:
So I copied this from EF since it was already laid out, and changed what was needed...
Engine: Stock 5.0L from a 2000 Explorer Limited
Transmission: Stock Ford 5R55E 5 -Speed Automatic Overdrive
Transfer Case: Borg Warner 1354 electric shift - Gear Ratio ? Low ? 2.48:1
Steering: Stock Power, Ford - Rack and Pinion (Includes Steering Cooler) - Ratio 19.1:1 Static
Front Suspension: None
Rear Suspension: Spring over axle
Front Axle: Dana35 with a LockRight locker
Rear Axle: Ford 8.8 with a LockRight locker
Communications: Cobra 75 WX ST 40 Channel CB, Wilson 1000 antenna
Recovery Equipment: 60" Hi-Lift jack, 20' looped end tow strap.
Tires/Wheels: Goodyear MTR's on 15x10 American Racing AR-767 wheels
Exterior: Performance Accessories 3" body lift. Gloria Zimmerman Rocksliders.
Interior: Leather seats, power moonroof, power rear window.
Audio: Boss DVD/CD Player - Back up camera installed
This is the picture of her when she was first purchased by John Johnstone :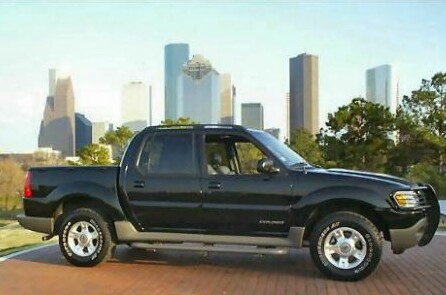 This is how she was, when my good friends Kris and Randall went with me to pick her up and misc things we've done to her:
How the Trac stood when we arrived to pick her up.
Another...
Getting her loaded up on my Tahoe...
Randall trying to figure out where we can stuff more of the parts that go with her...
Kris double checking Randall's tie down work to make sure it doesn't fly off while we're driving back home

Late night entry into the garage after a very long haul to Houston and back home - Large thanks for Kris and Randall for all their help
Current status in my garage
As you can see, a little bit of rust, but we'll go ahead and go over that with some good old rustolem
Header panel on the drivers side cracked and full of holes - hard to keep the headlamp/turn signal and fender back on it
New header panel next
New header panel in my make shift paint booth haha
Needed a new fan clutch
Had to cut the fan shroud off to get the fan clutch off - as John taught me the correct way to rebuild our plastic parts on our Trac's haha - Zip Ties!
Here is when Kris and I removed the damaged superlift...
Just getting started....
Coming off piece by piece
Had to buy new rotors to fit the new spindles...
Bam - front of the superlift out!
Kris taking a breather

Kris taking a look to see if we can grind off one of the brackets - no go too close to the oil pan
Needs some work
Coming back together with all it's new parts..
Seth (my son) loves this truck just as much as I do - he was helping clean her off...
Seth enjoying spraying it off

Drivers side - done
Some pictures of getting her back together and after the alignment was done after removing the superlift....
headliner installed
Parts of the interior installed
More of the interior installed
Some pictures of the radio installed, and taking her out for her first "trail" run with me ....
Russell doing a great job helping fab a bracket to house the rear camera
Robert also helping fab the bracket!
Rock Trac getting borrowed shoes for the run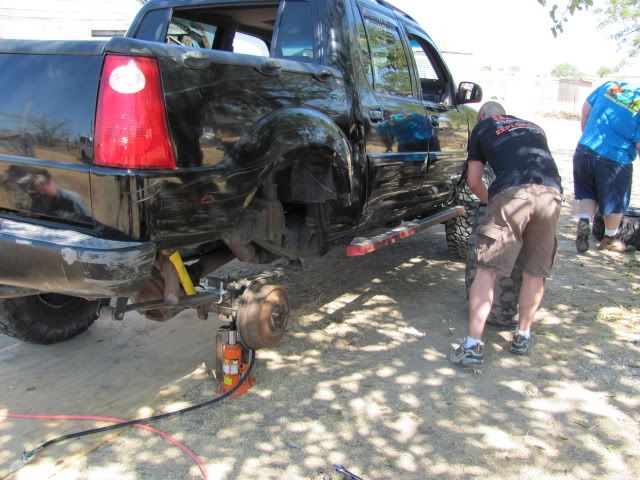 And then just some odds and ends from the run....
And the rear camera installed - I'll paint it eventually so it blends more with the Trac.
Spruced up the rock sliders...
More sanding...
Preparing to start throwing some black rustolem on them...
Couple coats...
Added a couple top layers of glossy
Looking like a great tape job hahaha
Who doesn't love red???
And we have two tone!
And now for the final touch...grip tape....
A new bed that will be painted to go on, hell of a deal we found at the local junk yard thanks to Kris!
The Rock Trac helping out during Halloween....
And last but not least for now....the motor swap...
The donor....
Surprise it was raining the first day!!
Getting ready, not sure why Randall has such a big grin...
Mike and Dan working on putting new plugs and wires on the donor motor...
Kris got tired and took a nap...
Russell did not agree with a comment of mine...
Hmmmm where do all these pieces go?
Big debate on how the 4.0 should come out hahaha
Thanks to Russell, no more crappy alarm !!!
What rust?
Hmmmm, 4.0 about to come on out
Hope this holds...
Why won't it just come out??
Apparently Eric thinks he can just lift it out by himself
Getting there...
I think Russell was meditating at this point....
Why won't it just let go!!!
Russell spreading some positive cheer...
Kris is actually happy in this photo, don't let the expression on his face fool you
The Trac naked....
Damnit, we've been robbed
Not sure why Russell looks confused.
Kris wanted to take a break but kept pressing on!
Merry xmas 5.0!
Almost in...
Hmmm think we need a new fan clutch..
Please don't drop it on Kris!
Even dark can't stop us!
Kris just making a few adjustments
Making some finishing touches
I think Kris was just hiding in this one...
Russell at this point was giving a lecture on wiring...
Almost there....
Had to change the badges to match...
A huge thanks to the Demon Crew for helping keep this awesome rig alive in our dear friend John's memory - I appreciate everything ya'll have done to help me and the Trac!